COVID-19 has changed the way we live, work, play, and interact. It is safe to say that in 2020 gone are the days of traditional gatherings and holiday parties. Without our annual holiday party or other traditional seasonal celebrations, many of us are struggling to find ways to show our appreciation to our employees and/or customers. How do we continue to share our company culture or continue to show our gratitude for their contributions and patience during (dare I say) these unprecedented times? In a time where we can usually only get together face to face in the virtual world, giving meaningful gifts has more of an impact than ever. Whether you want to thank your customers, members, or donors for their continued support, thank your employees for their hard work, or thank your board for their leadership during these trying times, there is a gift out there for that. Below we will dive into gift ideas for Working from Home, "Take Me Away," Trendy and Outside the Box, Immersive Virtual Event, Executive Gifts, and of course PPE or Healthy and Safety.
Working from Home Gifts
This year has created a very different landscape for office workers across the country, and many are still facing their own unique challenges as we continue to adapt to working from home. Between learning to simultaneously juggle our work responsibilities with increased household duties, keeping kids or pets entertained, or just fending off cabin fever, stress levels are understandably high. As many of us are spending more time than we ever anticipated in our home offices, gifts that expand on the comfort or functionality of these spaces is a great way to show your staff that you're sensitive to their situation and thankful for their continued patience as we collectively work to get back into the office. Picture your client or employee starting their day with a hot cup of coffee or tea in the mug you gifted them while blocking out the noises of their bustling home (and new office) with the Bluetooth headphones or speaker you also gifted them. Then, after a long day of answering e-mails, video calls, and finally getting around to the laundry, your recipient can curl up on the couch under a branded blanket with your tumbler and coaster set and finally unwind after a stressful day. Gifts that aim to enhance the comfort of our surroundings as we continue to navigate working from home can help make the struggles of our new working conditions a little more manageable.
Oversized Lightweight Throw Blanket with Fringes
Round Bamboo Coaster Set with Holder


Hugo Copper Vacuum Insulated Tumbler 16oz - 30oz


Light Up Logo Wifi Smart Plug with USB Output


Candle Light Bluetooth Speaker

"Take Me Away" Gift Ideas
While gifts with personal safety in mind are more relevant than ever, they can also be an all too real reminder of the trying circumstances many people are currently finding themselves in. That being the case, some companies are opting to give in the opposite direction and are leaning into gifts that resonate with the reminder that the good times will be back again. Imagine your recipient kicking back on the beach and catching some rays on the branded beach blanket you had sent them or being able to liven up their next backyard barbeque or camping trip with some tunes from your Bluetooth cooler. Picture in the future your recipient using your passport holder to board a plane and settling in under your travel pillow and blanket for a comfortable flight to a long-awaited vacation. After such a trying year for all of us, these types of gifts keep the holidays festive by reminding us that things will get better again soon. These types of gifts are also a great opportunity for companies to add their own personal touches to the gift by flexing a little local pride and incorporating things that relate to some favorite regional activities in a particular area. Just like a branded crab mallet for us here in Maryland invokes memories of crab picking in the backyard with our friends and families on a warm summer day, the right pick of local favorites can mentally transport your recipient to a better place and time.
Titan Deep Freeze Speaker Cooler



2-in-1 Carry-On Travel Blanket and Pillow



Microfiber Beach Blanket with Drawstring Pouch


Fleece-Sherpa Blanket with Full Color Card and Ban

Trendy and Outside the Box Gifts
Who said popularity is a bad thing? If you find yourself struggling to come up with gift ideas on your own, looking at new or popular items is an easy way to find unique gifts that boast both high quality and practical functionality. Whether your recipient is keeping hydrated with your branded Camelbak while hiking their favorite local trails or carrying some food in your backpack cooler to their favorite picnic spot, your recipient can take their gifts with them on their next socially-distanced afternoon out. Alternatively, picture your recipient finishing their final video call for the day, throwing up your webcam blocker for some peace of mind, then retiring to the couch to relax with their favorite album pumping through your wireless Skullcandy earbuds. Another great gift that never goes out of style is branded apparel. Clothing options can be both versatile and practical. Picture your client or employee reaching for their company jacket as the days become colder or donning a stylish company polo for their next video call. Ultimately, trendy items are a great place to start the gift-giving process for ideas and solutions alike.

Skullcandy Indy True Wireless Bluetooth Earbuds

Immersive Virtual Event Gifts
One of the unforeseen challenges of this new normal of working from home is maintaining the sense of community that was seamlessly fostered when co-workers saw each other every day. This lack of human interaction at the workplace leaves many people feeling disconnected from their jobs and co-workers alike. Because of this, many companies are opting to take their holiday parties or end of year events into the virtual realm. There are a lot of options as far as how to make an immersive and interactive online experience for your employees or customers, and choosing gifts that co-align with your event's theme is a surefire way to ensure these items get used. Logging into your company's holiday cooking event or wine tasting to see everyone using the branded cutting board or wine tools you gifted them gives you the added bonus of seeing everyone enjoy the gifts you gave. These types of events show our employees or customers your gratitude for their patience during this trying year and help retain a semblance of normalcy as we attempt to navigate a holiday season without in-person events. As such, the gifts to accompany the event's themes are an easy way to make your virtual event more immersive. Don't forget to check out our blog on best practices for a successful virtual event for more themes and gift ideas, as well as our Immersive Culinary Experiences blog for a great rundown on a fantastic virtual cooking event!

Grigio 4-Piece Wine Bottle Set


Black Marble and Wood Cutting Board


Table or Recipe Book Stand w/ Ballpoint Stylus


Bullware Six Pack Carrier w/ Bottle Opener

Executive Gifts
Let's be honest, budgets are likely tight for all of us at the moment. Luckily, one could argue that money is no longer the focus of corporate gifting this year – positive affirmation is. It can't be understated how a meaningful gift this year showcases our values and ethics as a company in a time of unrest and uncertainty for us all. Executive gifts are designed to boost our team's morale, which has become increasingly more difficult with a remote workforce. The best gifts continue that morale boost long after the gift has been given. Picture your board member, employee, or client sitting down for a video call in their company polo, proudly displaying a recognition award as part of their home office backdrop, all the while taking notes with their branded notebook and pen set. Even from afar, these gifts are sure to evoke a strong sense of company pride and personal accomplishment.
Moleskin Hard Cover Notebook



Aiguille Starphire Glass Award


Think Tank Gift Set



Rosewood Pen, Pencil, & Letter Opener Case Set

Personal Protection Equipment Gifts
It probably comes as no surprise that PPE equipment such as hand sanitizers and masks were some of the most popular promotional and giveaway items this year. With the pandemic expected to linger into next year, safety is still understandably at the forefront of everyone's minds. It's not hard to imagine your co-workers finishing a trip to the grocery store (for some last-minute holiday meal necessities) with a quick hand wash from your travel sanitizer before getting into the car and taking off their new branded mask. Or perhaps they've just returned home from a day at the office and want to ensure their phone is clean of any foreign particles they may have brought home with them, so they tuck it into the UV sanitizer charging station you got for them. In short, PPE gifts are a relevant and great way to show our staff or customers that we care about their and their family's well being.
UV Sanitizer Desk Clock with Wireless Charging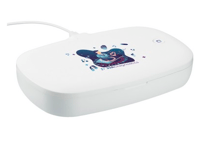 1oz Brighton Gel Hand Sanitizer

Gift Boxes
When it comes to gift-giving, sometimes quantity is quality. Whether there are too many options to choose from or you feel your employees just really deserve a bigger gift this year, we here at Madison Avenue can combine an assortment of your favorite picks into an individual gift box. This option allows you to pick a lot of unique items and, as we mentioned previously, gift boxes present the opportunity to create a regionally themed box based on your company's state or city. For us here in Maryland, this might include Berger cookies, crab mallets, Old Bay, and just about anything with our distinct flag on it. Non-regional themed boxes are also an option, such as a coffee and tea gift box with a mug, tea diffuser, and french press, giving your recipient everything they need to start their day off caffeinated. Of course, these gift boxes don't need to be themed at all and can ultimately contain an assortment of items you think your recipient would love.

We know the holiday season can be a stressful time (on top of an already challenging year), so our Customer Relations team is here to make the gift-giving process easier than ever. Whether it's helping you find a niche gift within your price range or gift boxing and distributing the gifts for you, we're here to help however we can, so drop us a line!