With everchanging production methods and breakthroughs in new sustainable materials, there's no shortage of changes you can make in your event planning to make your meetings a little more green. But did you know that making sustainable changes doesn't necessarily mean extra work or purchases for you or your team? Some of the simplest changes you can make are to products you already use! Below, we'll explore three of the most common materials you've no doubt used at your events and how simple changes to these substrates can mean big results when it comes to hitting your sustainability benchmarks.

Foam Free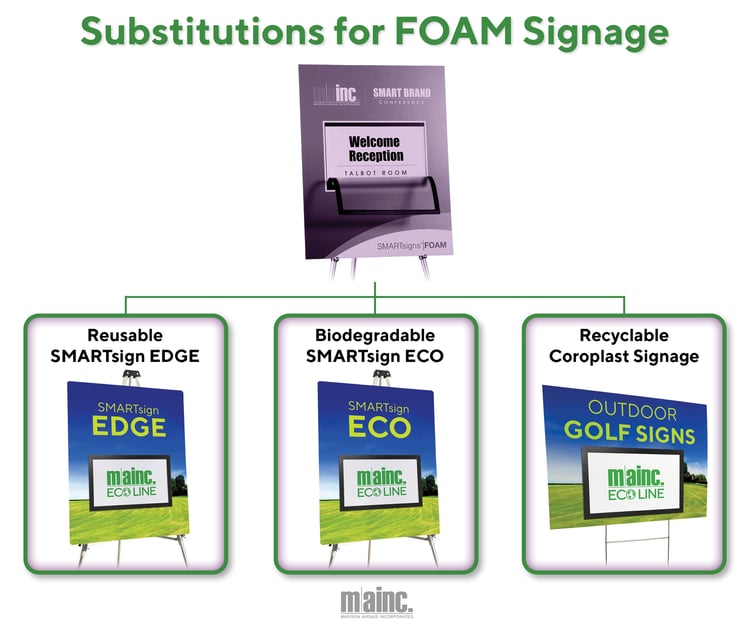 Disposable foam signage has always been a quick and affordable solution for every event, but with a single foamcore sign taking over 400 years to break down in a landfill, it also has one of the biggest carbon footprints. Thankfully, there are a few ways you can secure cost-effective signage without the big environmental price tag. One of the easiest ways to make your disposable signage more green is to simply opt for reusable signage instead. Signage that's designed to last across multiple events means fewer signs that need to be purchased for an event - a concept that's as beneficial to the planet as it is to your budget. Of course, reusable signage typically means a higher upfront cost compared to traditional disposable signage, but the ROI on these types of signs is usually seen after just a few meetings! Look for clever ways to utilize accessories to extend your sign's life and function even further. Add-ons like Sign Headers and Footers or a magnetic SMARTlens ensure that your reusable signage matches your event's theme and brings versatility so that a single sign can be used for multiple applications, even at one event. When it comes to sustainability, reusability is always one of the greenest options!

Reusable signage isn't always an option, and in these cases, swapping out foam core for a sustainable disposable option is an easy (but often overlooked) compromise. Ask your supplier if they offer any type of biodegradable or, better yet, recyclable alternative to foam that you can substitute for traditional foam core. Materials like recyclable coroplast, cardboard, or products similar to our ECO board (which is made from post-consumer waste) are all great options when it comes to budget and planet-friendly disposable signage. Substituting your foam signs is one of the simplest changes you can make that has the biggest impact on your event's overall sustainability.

PVC Free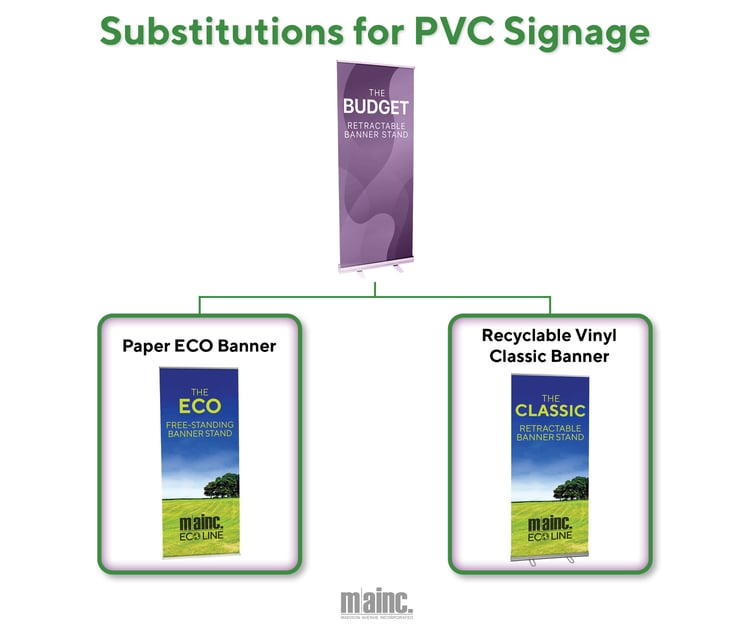 The production of PVC, or Polyvinyl Chloride, involves using harmful chemicals and fossil fuels, leading to substantial air and water pollution. PVC's non-biodegradable nature makes it a challenging material to recycle, and the fact that it leaches toxins into the soil means that its environmental damage continues long after it's been disposed of. Basically, PVC is one of the least eco-friendly materials that we use in our everyday lives. Unfortunately, it's also one of the most common materials we find at events in retractable banners and some reusable signage. We know what you're thinking, reusable signage is supposed to be green, right? While this is true when compared to disposable or single-use graphics, the fact is when we consider an item's sustainability, we do need to consider its production and end-of-life implications as well - both areas where PVC comes up a little short.
The good news is that green alternatives do exist! When sourcing your banners or reusable signage, ask your supplier if they offer PVC-free options for your signage selections. One easy and widely available alternative is substituting the vinyl commonly seen in retractable banners with biodegradable paper. The drawback here is that paper is (obviously) not quite as durable as vinyl, making the reuse potential of the banner a little less viable. Ideally, vendors will have PVC-free vinyl options available for their banners, which means both durability and sustainability. Some vendors may not necessarily have PVC-free material but can offset some of the environmental damage by using eco-solvent inks that don't leach into the soil during breakdown. If, however, your vendor supplies both, your banner is totally green from production to the end of life! You might even find that the PVC-free options are actually even greener than you think! For example, while all our banner material and reusable EDGE signs are natively PVC-free, they're also recyclable! This means they're green from start to finish without any extra work for you and your team!
Other times, the choice is less about how it's printed and more about how you're using them. For quite some time, decals haven't been recyclable, not only because of PVC but also the adhesive they use to stick to surfaces. Replacing traditional decals with PVC-free static clings means your decals are fully recyclable (though you're a little more limited as to where you can place them). Flat surfaces like windows, mirrors, and glass or metal fixtures rather than furniture, floors, or textured surfaces are perfect for these types of decals. If your venue can facilitate, this type of decoration and decals are part of your normal event arsenal, opting for static cling is a simple swap to bring sustainability to an otherwise tough graphic to make green!
Just as with alternative foam signage, finding reusable options for your PVC-free banners can bring even more sustainability to an already green product. Hardware that allows you to swap your graphics out between events brings some awesome reusability to your banners. Finding reusable banners with a lifetime hardware warranty ensures your investment is protected and extends the use of these units for years - saving you some money while being eco-friendly to boot. This concept can be taken even further through the use of free-standing banners. These units allow you to swap the graphics out yourself - even on-site - without needing to return them to the vendor. This substantially reduces the amount of carbon emissions from shipping for a truly green banner solution.
Plastic Free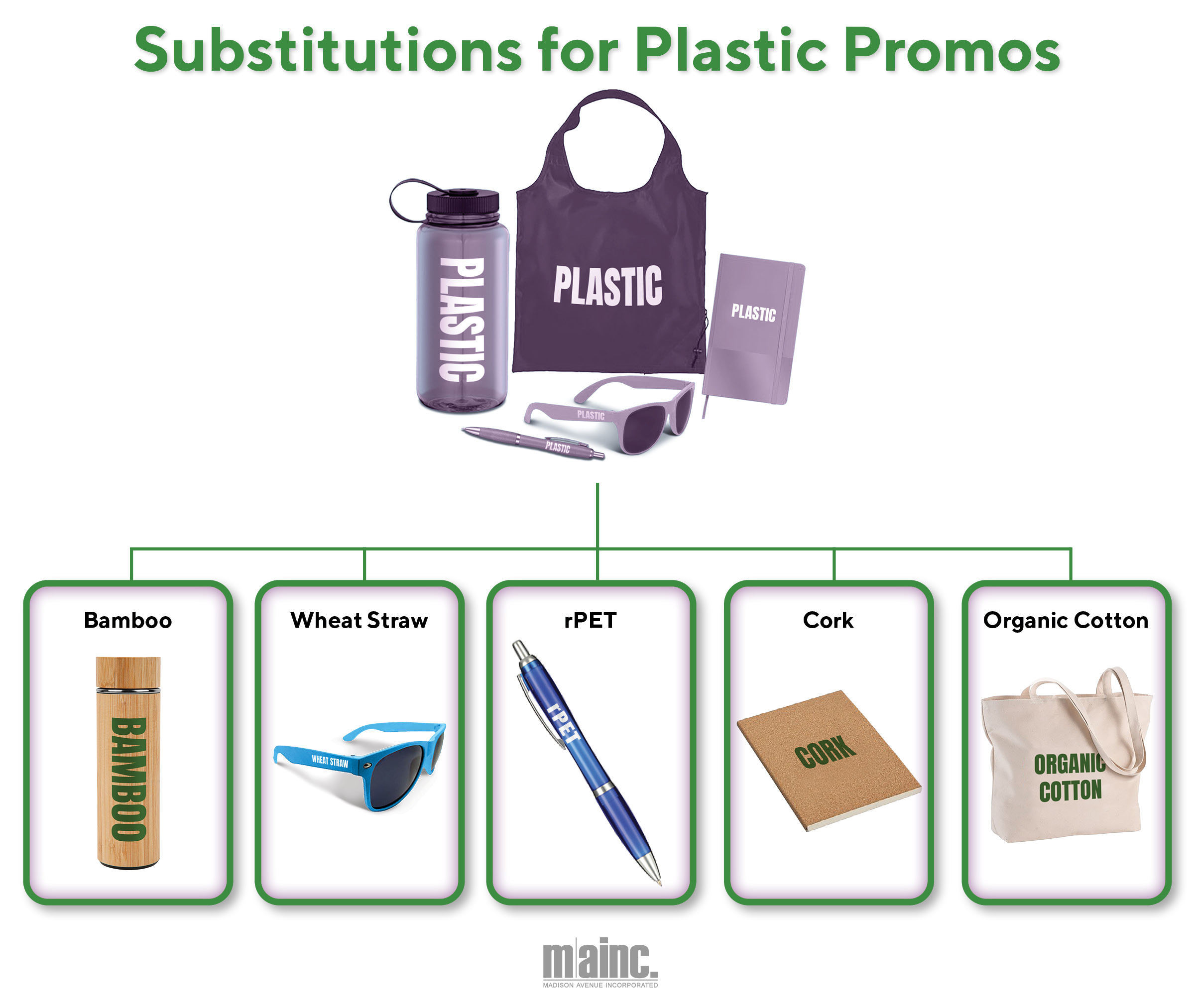 From the highest mountain peaks to the lowest trenches in the ocean, plastic pollution permeates just about every part of our planet. This fact is a little less surprising when you consider everything that plastic is found in. At an event, the biggest culprit for plastic pollution is usually single-use bottles, individually wrapped meals or foods, and branded giveaways. From common giveaways like drinkware and pens to even more niche gifts like tech products, plastic is popular due to its affordable and readily available nature. But did you know that eco-friendly alternatives to plastic are becoming more and more accessible in the promo world?
When it comes to eco-friendly promos, look for renewable materials to swap your plastics out for you. Options like cork, bamboo, or wheat straw are all becoming increasingly popular materials for just about every type of branded gift. Typically, these materials are competitive with plastic on price and reusability and are simultaneously renewable or biodegradable. It's not just gifts that plastics are found in, either! The totes that you're bundling these giveaways in can also be substituted for a greener alternative like organic cotton or rRPET (which is made from recycled plastic). Ask your supplier if they have an eco-friendly search option when you're shopping for your event's promos, or engage with their customer service department directly to see if they're able to offer some green alternatives to gifts you've already selected. Don't forget to check out our Eco-friendly Products blog for a deep dive into just what makes these particular materials just so sustainable, as well as some practical applications for each.
Let's Get Started!
Hopefully, this blog has made it clear that there are ways to make your event more sustainable without much effort. And this is just the beginning! If you're interested in taking a more in-depth look at changes you can make during planning, on-site, and post-event to make your event more sustainable, be sure to check out our Simple Switches for Sustainable Events blog. Simply asking your suppliers if eco-friendly alternatives exist to products you're already ordering is usually enough to start a dialogue, and you'd be surprised at just how many vendors have green options readily available.
Whether you're making the moves to replace foamcore at your event with an infinitely greener ECO board or need some help finding a stylish bamboo tumbler for your next event, our Customer Relations department is standing by to assist in making your transition to sustainability as painless as possible. Together, we can show the world that making the green choice doesn't have to be a hard one!