Green Meetings - A Start to Finish Guide for Sustainable Events
How to Utilize Circularity and Sustainable Practices to Plan a Green Event

Why go Green?
Whether you're a seasoned event planner or you've been checking out our recent sustainability blogs, you're probably no stranger to the idea of sustainability and why it's so important in the meeting and events industry. Aside from helping the planet, planning greener events bring a lot of extra value to your attendee's experience and your brand as a whole. In fact, according to a recent Forbes study, 88% of consumers want brands to help them be more environmentally friendly.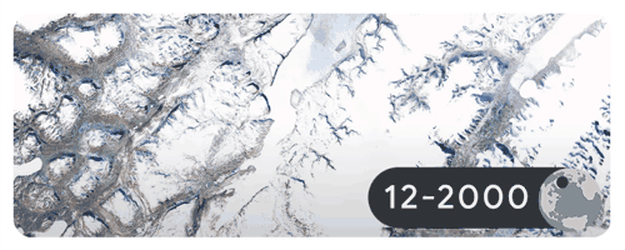 For Earth Day 2022, Google created this striking 20 year transformation of Glacier Retreat in Greenland, highlighting the importance of the fight against climate change.
There's never been a better time to take a proactive approach toward making eco-conscious decisions when planning your event. As industries and cities everywhere are beginning to shift toward total carbon neutrality or NetZero. Experts have predicted that sustainable practices will be a requirement for companies in the future, and many areas are already beginning to mandate sustainable practices as part of doing business in their cities. Forming good habits now can give you an advantage if and when these mandates are more widespread. Making incremental changes now can prevent radical (and potentially expensive) changes down the line.
With so much going into planning and executing an event, it can be hard to even think about where to start. We've saved you the research, and below we'll examine the best sustainable practices for events and meetings from the moment you begin planning to long after your last attendee has left. To help you focus on the areas, we've broken each step into four categories - Registration, Travel, Vendors, and Graphics/Branding - to help you focus on the areas that are most important to you. You can use this information (and the table of contents below) to start small and make one or more aspects of your next event greener. After all, we all know the only way to eat that metaphorical elephant is one bite at a time.

I. Pre-Event
i. Registration
ii. Travel
iii. Vendors
iv. Graphics and Branding
II. On-site
i. Registration
ii. Travel
iii. Vendors
iv. Graphics and Branding
III. Post Event
i. Registration
ii. Travel
iii. Vendors
iv. Graphics and Branding
Pre-event
Registration
Most of us have already shifted our save the dates, invitations, and registration from paper to digital, saving countless trees, printing costs, and postage. How can we optimize this pre-event communication with attendees to ensure you're both keeping participants informed and generating the appropriate pre-event hype we all love cultivating? Focus on connecting with attendees via the touchpoints they frequent most (like social media) or by using targeted and personalized email campaigns. Email correspondence also provides the opportunity to reach out with multiple reminders to keep our meetings at the forefront of everyone's mind and allows us to generate excitement in the days or weeks leading up to the event. Sending out a countdown timer or installing one on the event's landing page also creates excitement around the kickoff of an event.
Along with communication, the actual act of registering has largely moved to completely digital. The same event planning software you use to layout your event likely has the infrastructure you need to make registering simple, organized, and totally paperless.
Travel
A recent Event Manager Blog quoted a study that found that transportation is responsible for as much as 70% of an event's carbon footprint. While we can't change the fact that people will have to travel to attend events, we can implement some of the ideas below to reduce our event's carbon footprint.
Select an event destination with transportation in mind: Opt for cities with robust public transit like Chicago or Seattle or walkable cities like Boston or Washington D.C.

Plan some sustainable transportation options for your event, like shuttle services or subsidized public transportation vouchers.

Make carpooling easy by setting up a rideshare point (or points) at venues or airports for attendees to split fares and emissions.

Offer discounted Uber or Lyft passes. This is a great sponsorship opportunity. If you go this route, just remember to have these apply to their pool services and encourage attendees to ride together.

Encourage attendees to travel green by using direct flights to and from the host city.

Some travel and event planning software now offer functions that measure your carbon footprint when traveling, which you can include in your event documentation (this type of transparency goes a long way).




Another creative way to plan greener travel options while adding value for your attendees is by arranging a travel buddy system. As part of your digital pre-event surveys, ask guests where they'll be traveling from, when they plan on leaving and returning, and some general, non-industry-related interests they have. By aggregating this information and pairing guests with others from similar areas and interests, you can arrange ride shares while cultivating friendships or future business relationships. Imagine two guests bonding over a mutual interest in soccer, gardening, or old cartoons as they carpool from your event back to their hometown - I'm sure both would consider that a successful and, more importantly, memorable event!
It's not just people moving to a from an event either! Consider equipment transportation when planning your graphics. Replacing an oversized meter board with something like a retractable or free-standing banner that can be compacted and shipped without incurring any oversized shipping fees. These types of banners can also be reused by having graphics swapped out, making them a more sustainable option than a traditional foam board. Using reusable shipping cases or banner shipping tubes for your graphics can cut down on unnecessary paper and cardboard waste and ensure your signs arrive in one piece (preventing you from having to replace them with more foam or additional graphics on-site).
Vendors
Choosing the venue where you hold your meeting is a major decision and one that has an immediate impact on the overall sustainability of your event. An easy way to determine how "green" your venue is is by looking for a Leadership in Energy and Environmental Design, or LEED, certification. A LEED-certified venue is one that was built using strategies aimed at improving performance across eco-centric metrics - things like energy conservation, water efficiency, CO2 emissions reduction, improved indoor environmental quality, stewardship of resources, and sensitivity to their impacts.
Even without a LEED certification, venues of all types are taking strides to reduce waste and improve their impact. Though most venues will already be proudly promoting their eco-initiatives, it is still a good idea to ask about the items below:
recycling programs

the use of locally-sourced materials or, better yet, compostable or recycled materials

rainwater harvesting

blackwater treatment programs

solar energy

automated building management systems

some type of support or donations to nonprofits.


Even if your dream venue may not have any established green programs, you may be surprised that simply by asking a venue is happy to make adjustments to their normal practices regarding trash, recycling, and catering.
Food waste is a big concern for both events and the planet as it sits in landfills releasing greenhouse gasses (like methane) which is counterproductive in the fight against climate change. Deciding how you approach food can be a tricky balancing act between doing right by the environment and pleasing your attendees. When looking for food and beverage vendors, look for ones that use locally sourced ingredients, have a food recycle initiative (for instance, turning unused fruit into smoothies for later that day), or ones that minimize waste by donating uneaten and unused food to local shelters. Consider renting a zero-waste station for the duration of your event. These companies will provide you with recycling and compost bins for unused foods (and will typically provide staff to ensure everything ends up in the proper receptacle), which cuts down on food that ends up in a landfill.
As far as planning the actual meals, try to plan the menu according to the number of attendees estimated. Check to see if your venue provides reusable or biodegradable utensils (if not, this is something easy to source yourself and makes a great sustainable giveaway)! Finally, consider using your pre-event communication to ask attendees about dietary restrictions and what type of meals they're interested in, and relay this to your caterer ahead of time. Knowing exactly what people want can cut back on over-preparing food that would otherwise be wasted.
Graphics and Branding
When it comes to planning your on-site graphics for an event, the good news is that an eco-friendly graphics vendor will check a lot of the same boxes as a venue. Look for things like sustainable materials or green initiatives the company is involved in. One of the best things you can do regarding visuals is to ditch the traditional foam signs in favor of something recyclable, biodegradable, or reusable. Sourcing stationery or graphics that are made from post-consumer waste makes them green from the get-go, and because these types of materials are often recyclable themselves, it's a great way to add some circularity to your event's overall sustainability.
On-site
Registration
Many of the event apps we use to plan our events can also replace your on-site registration materials/papers and allow you to create schedules and relevant event materials. Many apps also encourage increased engagement through personalized schedules and in-app messaging. In addition to cutting back on paper waste and reducing the event's overall footprint, your attendees will thank you for the added convenience.
While paper agendas are something we can do without, a memorable swag bag is not! Sustainability doesn't need to mean opting out when it comes to picking promos. By choosing unique, eco-friendly items that differentiate your swag bags from other events, you can ensure you're providing guests with items that attendees will use once the event is over. Whether you're leveraging a brand with some type of social initiative to add value to the gift or simply opting for a sustainable promo that has practical applications both on-site and at home, environmentally friendly gifting is a great way to keep your guests and the planet happy.
Travel
Getting around doesn't end with getting to and from the venue. Bouncing between breakout sessions, moving from lodging accommodations to exhibition sites, or even just getting around the host city for a night on the town, attendees are moving from the time they arrive to the moment they leave. Providing some on-site green travel options can make getting around more convenient for your guests and improve your meeting's footprint. Options like public transit schedules and vouchers, offering scooters, or getting interactive by challenging your guests to a step challenge for the duration of the event are all great (and green) ways to keep people moving.
If you decided to go the route of the "travel buddy" pairing via the survey we laid out in the pre-event travel section; your event is a great opportunity to set aside some time to introduce any pairs your survey found and allow them to get acquainted prior to the end of the event. As we mentioned previously, this particular system provides a very unique opportunity for guests to cultivate long-lasting relationships within their industry based on shared interests outside of work, as well as consolidating trips to the airport by making the idea of carpooling with strangers a little less intimidating and the people a little less of strangers.
Vendors
On-site sustainability is a team effort between your staff and your vendors. While a lot of the heavy lifting ultimately falls on the venue to provide you with the experience you agreed upon, there are things you can do to help streamline onsite efforts to lower your carbon footprint.
Use bio-bags or plant-based plastic bags for compost, recycling, and landfill bins.

Communicate clearly and frequently to your attendees regarding waste to ensure that everything is properly disposed of.

If you did not manage to find a waste management company during the planning phase, it's never too late to partner with a local one! Being on-site has the added advantage of giving you a real-time idea of your waste needs.

Offer reusable utensils if your venue is unable to.

Provide attendees with a quality water bottle and offer refill stations around the event to cut down on single-use plastics or disposable drinking cups.




Graphics and Branding
For the most part, on-site graphics are as sustainable as the material they're printed on. Reusing or repurposing graphics at the event can help limit the total number of print items we need, which means less to worry about once the event is over. There are a few ways to do this:
Double printing signage to have different graphics on either side for different purposes.

Use large-scale graphics to convey multiple ideas, like using a single retractable banner to list a schedule for multiple days or thank multiple sponsors.

Utilize our magnetic SMARTlens system with your own inserts to have a single sign wear multiple hats.




The more dynamic you can make your existing graphics, the fewer end up in the trash at the end of an event, and the more money in your budget for higher priority items.
Post-Event
Registration
Post-event correspondence is strikingly similar to communication in the planning phase - entirely digital. Whether you're sending thank you cards or a post-event survey, ditch the paper and send an email instead. Establishing a hashtag for your event and communicating this with guests either before, during, or after the event can be a great way to aggregate photos and opinions for marketing use or future planning efforts.
Travel
Efforts in sustainability can actually make travel more convenient and safer for your guests. Aside from arranging shuttle services to the airport (especially for those you paired in your pre-event survey and introduced in the meeting), providing documentation that shows public transit schedules for days after the event or even comped fares to the surrounding airports can help guests who maybe miss their shuttles or want to spend a few extra days in the host city still make it home securely and sustainably.
Vendors
Got leftovers? Partner with food donation programs for leftover food - even if the food is a little old, alternative options such as livestock feed, food waste for industrial energy, and compost creation exist to take these extras off your hands. Venues will often have partnerships like this in place, but on the off chance they do not, and you're not sure where to start, you can actually still hire a waste management service to take care of post-processing the waste.
Graphics and Branding
If you're using biodegradable or recyclable signage, ensuring these end up in the proper disposals at the end of an event is important, but just because a sign is disposable doesn't necessarily mean it needs to be discarded. Better than disposing of, consider reusing or upcycling unused graphics, especially those printed on plastic. You can do this by getting creative and using another product to improve upon the existing design or by utilizing a company that repurposes materials. Some ideas for reusing graphics include:
Using a sign sticker to change the sign's look for interoffice use (employee of the month, pet showcase, cafeteria menu signs, etc.)
Use chalkboard paint to create a fun reusable sign at your home or office.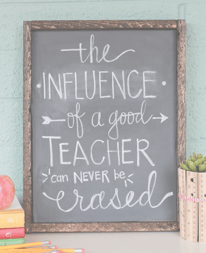 Donate the signs to schools, libraries, community art initiatives, or local shelters.

Repurpose banners or other vinyl materials into something more practical. Vinyl can be used to create things like totes, coasters, bookmarks, or even some type of cool giveaway for your next event. If you aren't particularly feeling the DIY spirit (and who can blame you, you just planned an entire event), there are companies that exist to do this type of transformation for you, so be sure to check your area for resources!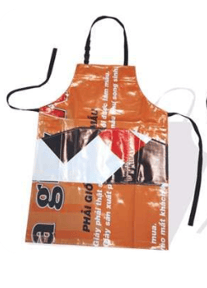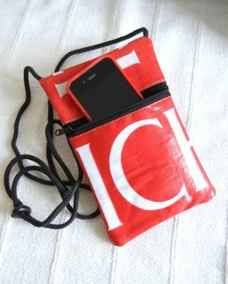 It's not just signs and graphics that you may need to find a new home for. Things like leftover apparel or table throws with outdated branding can also be recycled. Textile recycling plants exist in almost every major city, meaning you can find these local to your event location, and often they'll even pick the waste up! In short, anything you can do to keep your visuals out of the garbage, whether by finding them a new use or by turning them into something else, can drastically lower your event's overall footprint.
Where to Start
Okay, we know that going green might sound like a lot, but taking the steps toward a more sustainable industry doesn't need to happen all at once. Little changes now mean fewer bigger changes down the line. Not sure where to start? Our team of Customer Relations consultants is here to help! From recommending the most sustainable picks for visual solutions to helping you pick promos that are great for the planet and your attendees alike, feel free to contact us to get the ball rolling on making your next meeting greener than ever. A successful sustainable event is a win for you, your attendees, and most importantly, the planet!