From attendee swag bags to where your banners and signs are placed and right down to the type of napkin you're using - details at an event can make all the difference in an attendee's lasting impression. One of the most impactful event details is your venue. In a time of surging live events, planners are always looking for ways to make their meetings stand out and attract attendees, and a growing trend is the use of non-traditional and visually appealing venues. Alternatives to the traditional hotel or conference center can give attendees an unforgettable experience, but one of the challenges in finding a unique venue in which signage not only works well within the space but elevates the atmosphere and your brand image for even more visual impact (as well as a great backdrop for social media pics). Below we explore some outside-the-box venue ideas and some signage solutions you can use to optimize these unique spaces.
Outdoor Venues with Open Space
Vineyards, Cideries, Public Parks, Farms, Golf Resorts
Sometimes bigger is better, and renting an outdoor venue with a lot of open space is a great way to bring some welcomed breathing room into your event. Locations like vineyards, cideries, farms, golf courses, and public parks are all great options for larger outdoor events. More space means more room for obstacles, and some planners may find this extra space comes with a few challenges we don't see in smaller, indoor venues.
Be Directional: Vineyards and Cideries are often located in rural, off-the-beaten-path areas, which can sometimes pose a challenge to guests unfamiliar with the location. After all, to enjoy an event or meeting, you need to be able to find it! Waterproof wayfinding signage, such as golf signs or Zoomflex flags along the road, can help guide attendees to the parking lot and give them the peace of mind that they're in the right spot. Consider having your golf signs cut into interesting shapes, especially ones that tie in with your branding, for some extra roadside visibility.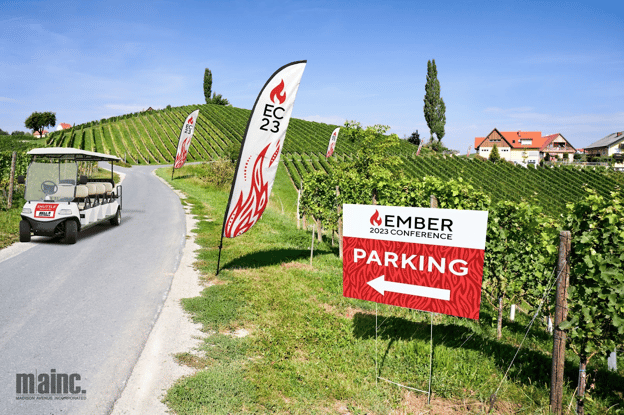 Synergize With Your Venue's Natural Charm: For example, older, rustic venues typically offer wooden fixtures and objects that you can use alongside your graphics. Match and accentuate this aesthetic with signs like wooden A-Frames with chalkboards. Take the details a step further with custom vinyl decals to be applied right to your signs instead of hand lettering, giving you more legible messaging and a more consistent look across your venue.
Brand Your Activities: Classic lawn games are perfect for these types of venues and give you an opportunity for some immersive branding! Options like wooden cornhole boards not only match a venue's rustic aesthetic but also provide a unique platform for branding and sponsor recognition.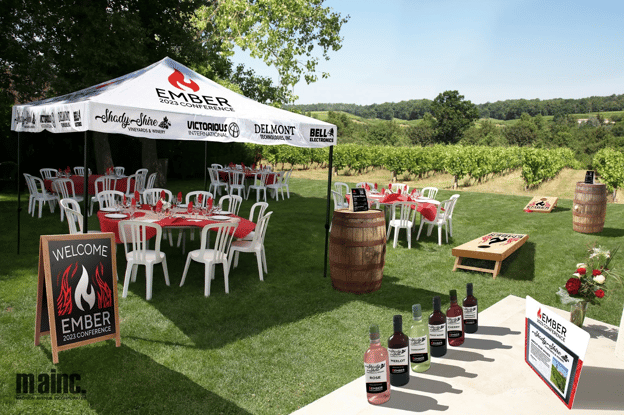 Don't stop at games, either! Food and beverage options also offer big branding opportunities. Consider custom labels for wine and water bottles promoting your event's sponsors or including some fun facts about your organization. Classic tabletop options like SMARTtoppers and table tents provide high visibility but low-footprint ways to display menus.
Branding on the Go: Look for mobile branding opportunities at your event, like golf and beverage carts or transportation shuttles. Utilize these aspects of your event with these custom branded vehicle magnets or decals to boost your or your sponsor's visibility!
If your venue is particularly scenic, encourage your guests to document their experience with photo opp signage. Have a few handheld photo frame signs branded with your meeting's hashtags to inject some fun into the event for your guests and offer some great social media marketing opportunities. Sometimes a big space means even bigger photo ops, and an ECO meter board photo frame cut out is a unique, free-standing, and sustainable prop that's great for any space.
Large, Indoor Venue
Museums, Historical buildings, Aquariums
Wide open spaces don't just have to be limited to the great outdoors, either! Venues like museums, historical building lobbies, and even aquariums provide some excellent indoor venues with no shortage of space to create lasting experiences for attendees. The high ceilings and unique architecture typically seen here offer some great spots to get creative with your branding.
Use Your Vertical Space: If your space comes complete with vaulted ceilings, use the space! Consider opting for multiple vertical ceiling banners as welcome signage to lead attendees down a hallway or to frame your central activity hub. The scale of these banners demands attention and is a great way to introduce your event's branding and main themes while acting as subtle wayfinding options at the same time.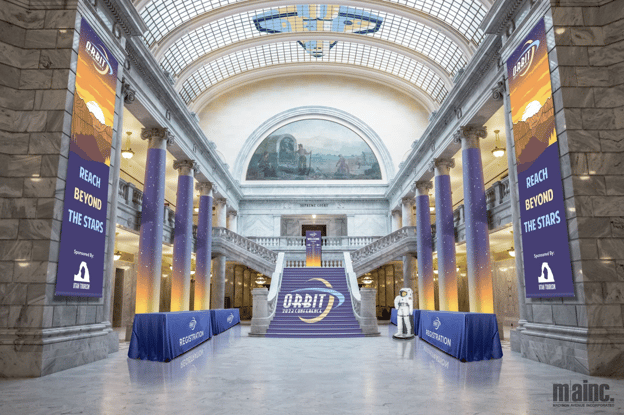 Incorporate Your Infrastructure: As we covered in our blog, "Differentiating Your Event Through Visual Communication and Branding" strive to incorporate the unique architecture of a space whenever possible. Options like elevator decals, stair wraps, and column wraps are all ways to spread your branding throughout your venue. Have a particularly unique space? No problem! Decals can be dye cut to fit just about every space, so spots like the sides of escalators and stairwells or artistic walls can also be included in your branding efforts!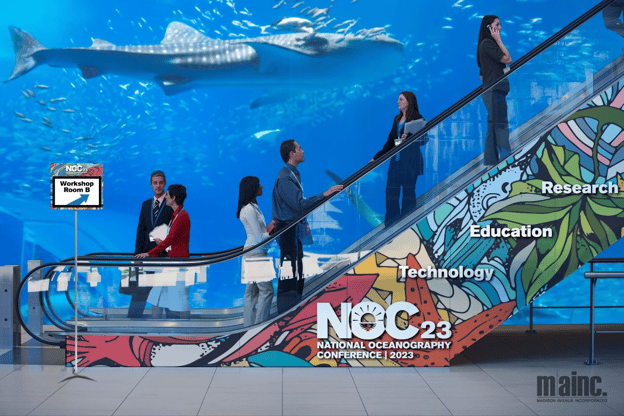 Large, prominent windows also provide the opportunity for these custom-routed wall decals. Consider going for more abstract, eye-catching designs that fit your event's branding, theme, and size the decals for your specific window pane layout. Look for ways to tie your infrastructure together, like decals across multiple windows that create a large image or spell out an inspirational phrase when viewed together.
Lean Into History: Just as you use your event's unique layout, don't forget to incorporate its unique history as well! Make guests aware of the building's past, its purpose, or cool facts surrounding the city you're in by incorporating elements into your signage graphics. If your event is at an aquarium, maybe your sponsor decals are cut to the shapes of various aquatic life. If an annual event changes locations each year, alter your event's theme to reference your current venue or city. For example, in an event in Baltimore, utilize colors like purple or orange in reference to the Ravens and Orioles sports teams. Banners and decals could feature a silhouette of the Baltimore Harbor or a reference to Maryland crabs.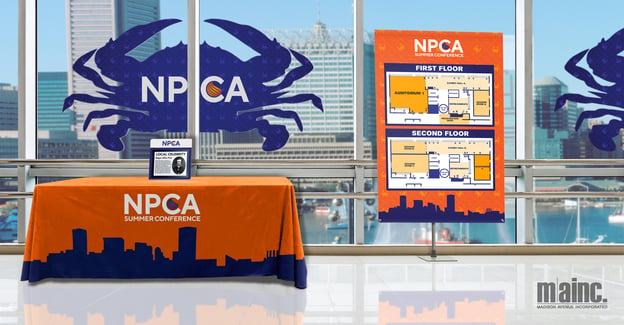 Rooftop or Cruise Ship Decks
Venues like rooftops and cruise ships are some more modern takes on non-traditional venues. Both options provide amazing scenery, with amazing views of the city or landmarks at sea.
Provide Shading: We all want our attendees to be comfortable, and your attendees will need protection from the sun and unforeseen bad weather. Patio umbrellas or canopies provide both form and functionality when it comes to practical branding options. Use shade structures to boost your branding and provide some vital protection to your guests.
Opt for Durability: Weather on a rooftop or out at sea can be a little more volatile than in traditional outdoor venues, especially regarding the wind. Opting for spring-supported banners like our Thunder banner or Countour banner that are built specifically for use outdoors can ensure your branding is visible, rain or shine.

Maximizing a unique venue's branding opportunities is a big part of creating an unforgettable guest experience. Whether it's at a trendy rooftop bar or a historic building downtown, the right signage can elevate the ambiance, enhance navigation, and leave a lasting impression. By understanding the distinctive characteristics of your venue and combining creativity with functionality, you can effectively communicate your brand identity, guide visitors seamlessly, and inject a touch of individuality into every corner of your venue. Ready to get started?
Contact us
, and let's collaborate on some signage ideas to add an extra spark to your already unique venue!