Sustainability is undoubtedly the buzzword of 2022. As planners, we're all making efforts to minimize food and beverage waste, offering promo items from brands with some type of social initiative, or making plans for more eco-conscious travel options to, from, and at an event. In a climate where social activism is expected from companies and meetings alike, opting for green choices when planning an event can help elevate your brand and improve the attendee experience.
When it comes to event signage, a sustainable path forward can be a little less clear. Traditional graphic options often end up in a landfill. They can make up to 40-60% of an event's total waste (which is particularly problematic with foam signs taking nearly 400 years to decompose). It's not surprising that many resources simply encourage planners to ditch traditional graphics for either generic rented pieces or suggest foregoing signs and graphics altogether.
As meeting and event professionals, we recognize the pivotal role signage plays in communicating with our attendees and improving their on-site experience. Things like wayfinding, broadcasting agendas, posting menus, thanking sponsors, and establishing health and safety protocols are just some ways that signage addresses pain points before they're even an issue. With this sort of proactive problem-solving in mind, is it really in our best interest to forego signage altogether for the sake of sustainability? Isn't there a way to have both?
Luckily, there is! Below we'll dive into various green or eco-conscious signage options. We'll highlight some key components like recyclability, reusability, shipping considerations, and post- event care. While some of the concepts aren't necessarily new or ground-breaking, simple changes to how we approach purchasing signs for an event can have a huge impact on its overall footprint. You may even find that opting for greener signage could actually save you some budget dollars!

Universal Considerations
When it comes to planning sustainable signage for your event, there are a few basic things you can do to make your purchases greener from the start:
Prioritize your initiatives: Deciding what's important to you and your event's brand can help you make a better pick when it comes to signage. Are you working towards carbon neutrality, minimizing event waste, or working only with ethically or sustainably sourced materials? No matter the initiative, there is guaranteed to be a type of signage that aligns with it.
Be Realistic About Your Scope: As we return to live events, small events are proving to be a great way to have a big impact. If you find yourself opting for more intimate regional events, you may also find that fewer signs are the best fit for you. In this scenario, options that offer versatility or adaptability can mean you can use fewer signs to do the work of many!
Don't Forget The Shipping: While all your event's materials will be shipped to the venue, reusable options will also require return shipping. This back and forth transit does increase the total carbon footprint of your graphics. While the total sustainability of transit depends primarily on geography, we do have some autonomy over making shipping for our signs a little greener. Consider reusable cases rather than disposable packaging for your graphics which can eliminate unnecessary waste associated with shipping (as well as provide better protection for your investment).
Know Your Vendor: When it comes to manufacturing, everything has a footprint. With sustainability becoming increasingly popular with consumers, greenwashing or misrepresenting just how environmentally friendly a product is, has also become more popular. If your green priorities involve sustainable materials, ask your vendor for any relevant specs, documentation, or certifications on your material of choice to ensure you're getting the exact type of product that aligns with your initiatives.


Signage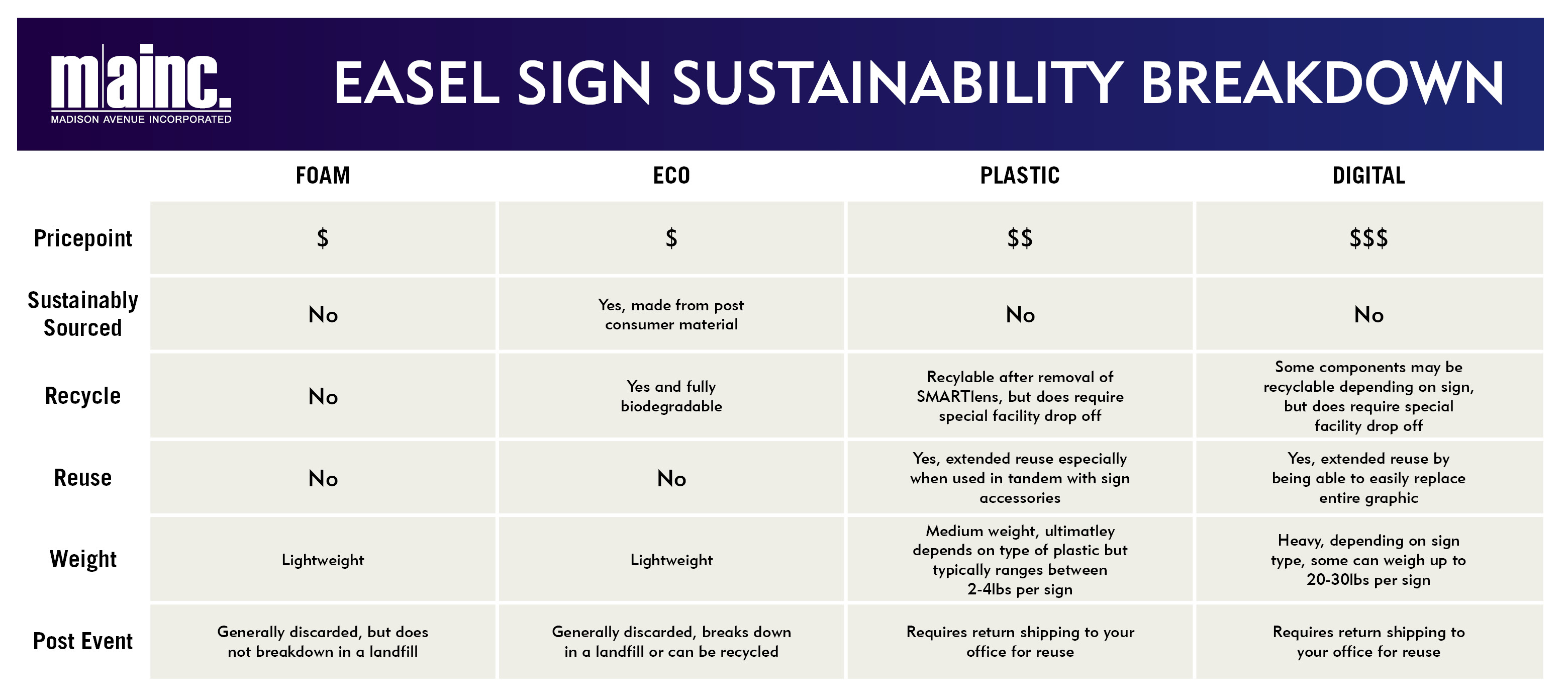 When we think of event signage, many of us immediately think of foamcore - and for good reason. Foamcore has been an industry standard for years because it is lightweight, disposable, and typically cost-effective enough to fit within the tightest budgets. When you consider the number of signs used at a typical event, the number of events held each year, and how long traditional foam core takes to break down, it becomes clear the industry standard is far from eco-friendly. So what options do we have?
ECO Board Material
ECO board is the sustainable foam alternative that checks many of the same boxes. These signs are made from post-consumer wood pulp, making them green from the start. Designed largely for one-time use, they are both 100% recyclable and biodegradable. They're perfect for "no waste" events as they can be recycled, or should they accidentally end up in the trash, they'll completely break down in a landfill! Overall, ECO material is an easy pick for planners looking for a low cost, disposable, and sustainable alternative to foam.
Reusable Signage
We're all familiar with the concept of "Reduce, Reuse, Recycle," but did you know that plastic signage can actually help you accomplish all three? When it comes to sustainability, reusability always trumps disposable and plastic signs are a great-long term option that can last across multiple events. By reusing the same signs over and over, the need for disposable signage per event decreases (or ideally disappears entirely).
As you might expect, reusable signage is a bit more expensive than their one-time use counterparts and might not always fit into your budget, though there is a significant ROI on these types of signs after several meetings. Reusable signs also mean return transit after your event is over. On top of additional shipping costs, this increases the sign's carbon footprint as opposed to those that can be discarded on-site.
Digital Signage
As we're well into the technological age, it's not surprising that signage has also made the leap to the digital dimension. Digital signs are designed with reuse in mind and can easily handle everything from new event themes, on-site changes, and even rebrands.
Like any piece of tech equipment, the price point is often the biggest obstacle to overcome. While the initial cost of the sign is expensive in its own right (especially compared to the traditional alternatives), additional costs like installation or repair can also come with a big price tag. We all know how much it costs to replace the battery on a cellphone or a broken laptop screen, and repairing a damaged digital display is no different.

These signs also require a cursory understanding of tech know-how to operate properly, and if 2 years of Zoom meetings have taught us anything, it's that when technology is involved, the margin of error is wider. Finally, there is a bit of on-site maintenance to consider with these signs, whether it's planning your layout around outlets or budgeting time and resources to ensure your signs are fully charged, these types of signs require a little more hands-on upkeep than the alternatives.
Don't Forget to Accessorize
While digital signage does provide the benefit of flexibility when it comes to redesigning or repurposing your signs for other events, there are options you can use to make your traditional signs both more dynamic and more sustainable. One of the best ways to make your sign more versatile is by adding a magnetic SMARTlens window that allows you to change out your own inserts onsite. This simple addition means being able to use a single sign for multiple purposes (for example, changing your breakfast sponsor sign out to identify a breakout session's location). Cutting down on the total number of signs needed keeps production waste at a minimum and may even mean a few more budget dollars you can allocate elsewhere.

Using reusable, removable, and repositionable accessories such as directional arrows or sign decal headers and footers can help you change the look of a sign for a particular event's theme or add some wayfinding capabilities to an otherwise basic sign. By utilizing the vast array of signage accessories available, your signs are able to be temporarily reskinned for an event's theme and then go back into your event department's ecosystem, increasing your events' overall circularity.

Banners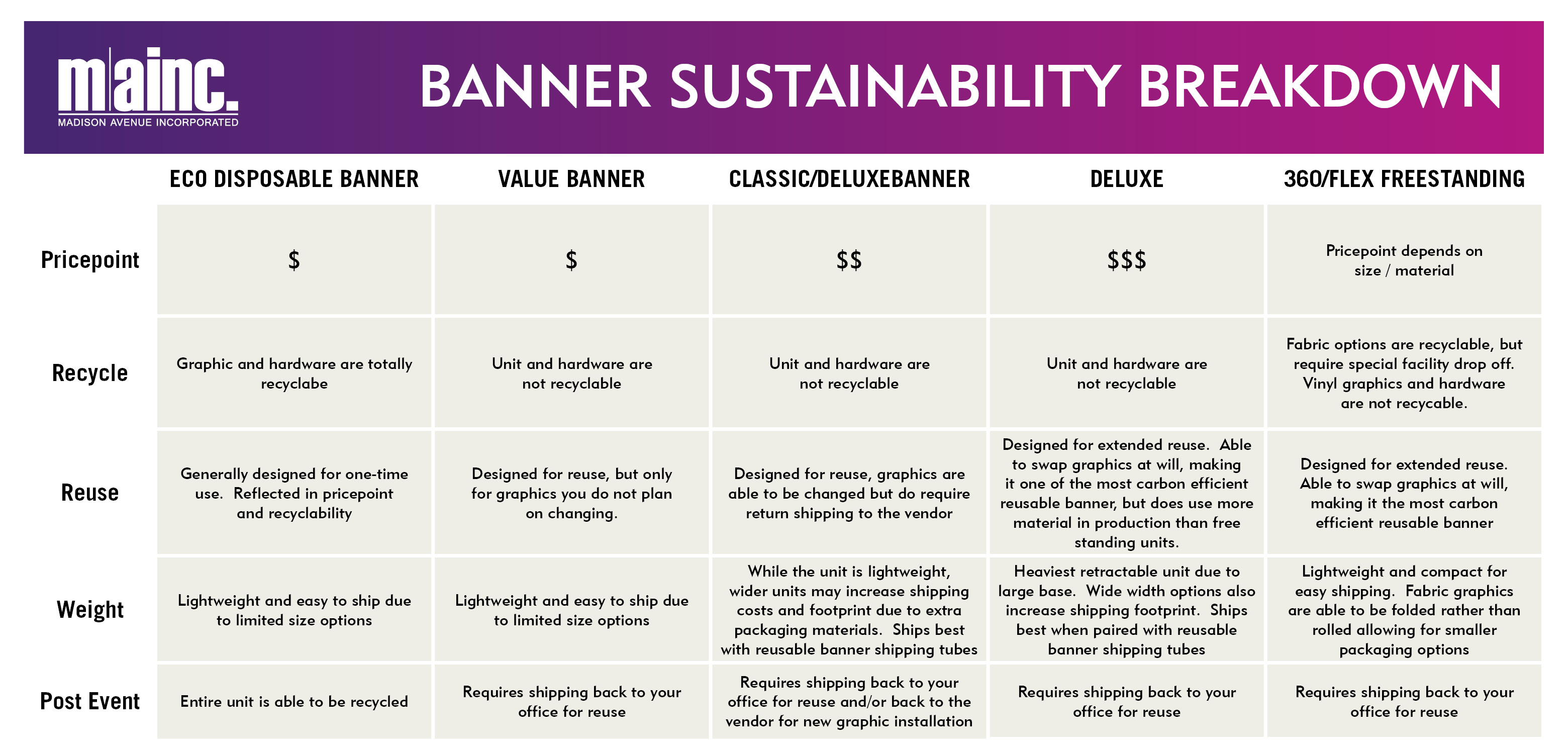 Much like easel signs, banners come in various sizes and styles and offer a wide range of green and not-so-green options. The good news is that most banner hardware has a degree of sustainability since the metal bases are designed with reuse in mind. When it comes to graphics, the extent of reuse depends solely on the material they are printed on. It is important to know exactly what material you are purchasing to ensure it aligns with your specific sustainability goals. But what if you don't need a long-term solution banner? Is it possible to still be environmentally conscious when purchasing something designed to be discarded? Let's take a look at both disposable and reusable units below and hopefully answer any questions you may have about banners!
Disposable Banners
Much like disposable signage, disposable banners are usually less expensive than their reusable counterparts. Just like with signage, when it comes to sustainability, reuse is preferable, but there are ways to keep disposable banner options on the greener side. Selecting units where the material is recyclable, or better yet, the entire unit can be recycled like units similar to the ECO Banner, can mean that discarding a banner is still environmentally conscious.
Reusable Banners
If you've used reusable banners before, you know they come in many shapes and sizes. The easiest way to determine which unit is best for your particular branding goals is to ask yourself whether or not you'll be changing the graphics out and, if so, how often. Some units feature robust hardware built to last across multiple events but don't allow the graphics to be changed. Units similar to the Classic or Deluxe banner will enable you to swap the graphics out before or after an event by sending them back to the vendor and having the old material cut out and replaced. This extended use we can derive from these banners and the fact that it's cheaper to purchase just graphics rather than a whole new unit means it's great for the planet and our budgets. Finally, retractable units similar to the Premium or free-standing units like the X-tend or 360 allow you to seamlessly swap the graphic. Preventing the need for any return shipping makes these particular types of units a little more carbon-conscious than the others and a great pick for companies pushing towards Net Zero.
Like most graphics, you often get what you pay for, so higher quality units that will last a long time are usually more expensive than shorter-term or less durable alternatives with less hearty hardware. Additionally, if you're using a unit that requires the vendor to swap the graphic out, return shipping costs (and carbon emissions) need to be accounted for when planning your event.
Misc. Options
While banners and signs certainly make up most of our event graphics, other creative and sustainable ways exist to improve attendee experience and elevate your brand at your next meeting. Here are some great (and green) ways to dress up your venue and delight your guests::

Decals
Decals are a great way to get some decoration on areas that would otherwise be hard to brand. Spots like elevator doors, escalators, walls, hallway floors, bathroom mirrors, windows, etc., are all within reach due to the decals' ability to be dye cut to fit your space. But did you know that decals can also be green? While not the case everywhere, many decal options are reusable across multiple events (assuming that proper care is taken when installing and uninstalling). Some decals, like our adhesive free static decals, are actually fully recyclable as well, adding an extra layer of sustainability.
Desktop and Podium Signage
Tabletop and podium signage are similar to traditional reusable or disposable signs in that they can be made of the same material. While reusability is always preferable when it comes to sustainability, opting for biodegradable options for one-time use signage is a possibility here as well. What's great about these particular types of signs is the easy "end of life" applications, as the small size makes them great keepsakes for our clients and/or us to remember the event. Some offices even keep walls of their different podium signs up in a lobby for some cool office decor!
Step and Repeat Displays
When it comes to large-scale branding, fabric options such as collapsible displays are a fantastic option to keep things green while also providing a great looking product for your client or attendees. Fabric options are ideal for extended use across multiple events and can last years with proper care and maintenance. The hardware is also incredibly sustainable as the simple graphic replacement method means that even if the graphic is no longer relevant, you can reuse the same frame over and over. Fabric is also much more readily recyclable once the graphic is no longer needed, as many textile recycling plants can turn this into something new for someone in need!
Don't Just Recycle, Upcycle!
Whether we like it or not, all good things must come to an end. Whether it's a branding overhaul, a change in event schedules, or just the wear and tear typical of a well-used unit, sooner or later, all graphics will become obsolete. But just because a unit has outlived its use doesn't necessarily mean it has to stop being sustainable! Better than disposing of obsolete graphics, try finding simple ways to reuse or upcycle them. We recently published a blog all about planning sustainable events from start to finish, and our last section dives into some fun and creative ideas to repurpose your old graphics. Whether it's using a removable sign sticker to create a new sign for use around the office, recycling old banners into a tote or coaster for your next giveaway, or even just donating it to a local school, library, or community center, finding ways to extend your graphics use after it's served its initial purpose is a best practice when it comes to sustainability.
Where to Start
Hopefully, we've shown that you can have your cake and eat it too, when it comes to graphics and sustainability. As planners, we know that graphics play a pivotal role in an event's ecosystem, and by changing how we approach graphics, we can make our events a little more green. After all, little changes now mean fewer bigger changes down the line.

Not sure where to start? Our team of Customer Relations consultants is here to help! Our team is here to match you with the best pick for your intended use and your sustainability goals for a great graphics solution for the planet and your attendees. We're happy to send samples of any of these materials for you and your team to check out. Feel free to contact us to get started on some greener graphics, greener events, and a greener planet!