By now, you've heard it a thousand times: "Wash your hands". Although it's a simple concept, keeping your hands clean is one of the most important steps we can take to avoid getting sick and spreading germs to others. Microbes can enter our bodies in a number of ways but are most commonly transferred from our hands to our eyes, nose, and mouth when we touch our faces. Studies show that the average person touches their face up to 23 times an hour, that's a lot of opportunities for potentially dangerous microbes to find their way in and make themselves at home. Washing your hands frequently helps combat any germs that may be lingering on our hands after we've come into contact with a doorknob, handrail, tabletop, and even food. So while washing your hands not only protects you from yourself, it also helps you stop the transfer of germs to other surfaces, helping you to protect others. Washing your hands is essential to prevent the spread of germs, but what happens when soap and water aren't readily available? In these situations, having some type of sanitizer at your disposal means you can continue keeping yourself and others safe, without having to wait or leave to find the nearest restroom. Many of us are keeping hand sanitizer in our bags, cars, or inside the front door to avoid bringing any germs home with us. Hand sanitizers are a great way to help you stay protected - especially when you are on the go!
The Centers for Disease Control and Prevention suggest that "if soap and water are not readily available, use a hand sanitizer that contains at least 60% alcohol." Most of us have probably used some type of the most common gel-based sanitizer in the past as they are inexpensive and easy to produce. Alcohol-based sanitizers are also available in a spray, which is just as effective as the gel but dries faster. What's great about the spray is its functionality is not only limited to sanitizing your hands, but objects like your phone or desk as the spray does not leave a residue behind. Ultimately both versions are great options for sanitizing on the go and are available in a variety of shapes and sizes to suit your personal preferences, application, and budget. We'll dive into some factors you should consider when deciding what sanitizer is right for you in the sections below.
Getting Started
Branding Options
Fragrances
Availability
Getting Started
As sanitizers are primarily intended to help keep you protected when access to soap and water isn't an option, many are designed with portability in mind. Gel and spray alcohol-based sanitizers are available with carabiner clips to attach to luggage or your keys, loops for hanging on hooks or doorknobs, bracelets, pocket-sized tubes, and everything in between. While these sanitizers are also available in a variety of sizes from 0.5oz up to 2.0oz, and the types of attachment options available, the difference in volume doesn't always mean less mobility. To show just how diverse the options are for these products, we picked out some of our favorites to showcase for you as a starting point. Check out some of these cool options:
Clipper Hand Sanitizer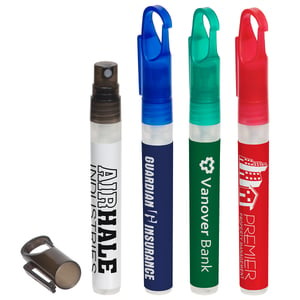 This type/option is a tried and true alcohol-based spray pump hand sanitizer. This item comes with a carabiner clip making for easy transportation. The label of the pen accommodates a full-color 3.125" x2" branding area, so it's a great way to get your logo or message onto a mobile sanitizer. It's worth noting that this particular item is only available in a citrus scent, but if this particular design is something you're interested in let us know and we'd be happy to get you some additional options to consider.
1oz Hand Sanitizer with a silicone strap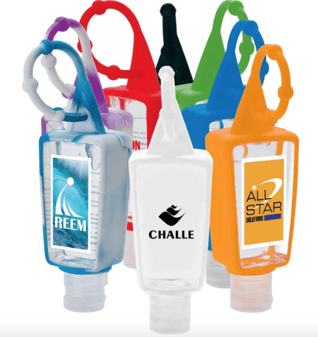 This is a gel-based alternative to the above-mentioned spray. This is a simple 1oz hand sanitizer bottle with a silicone bottle holder that has a 0.6" x 1.75" full-color imprint area. There is also an easy to attach beaded silicone strap that can be used to integrate the sanitizer onto a bag or to a doorknob. Like the spray, there is also a slight citrus scent, so if you like the functionality of the clip but would prefer an unscented option, just let us know!
2oz Moisture Bead Sanitizer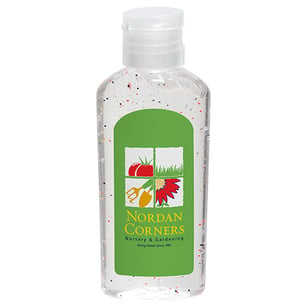 While some sanitizers can leave your hands feeling dried out, this gel-based sanitizer comes mixed with aloe and vitamin E moisturizing beads that leaves your hands feeling soft on top of being clean. The bottle features a 1.25" x 2.5" full-color imprint area, and can be outfitted with a carabiner to make this item easier to transport and is available in several different scents.
Phone Sanitizer Spray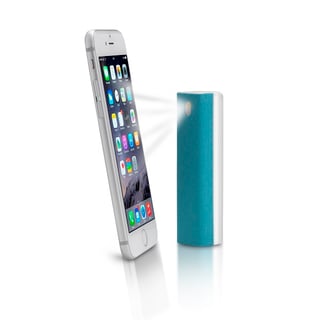 Cell phones are one of the most commonly touched objects in today's world, and, as such, the average cell phone usually harbors over 25,000 bacteria per square inch. This spray pump sanitizer is designed for use specifically with screens such as your phone, iPads, tablets, or laptops. What's so cool about this particular spray unit is that it includes a built-in microfiber cloth, so you can spray and wipe all with one item. The 2.5" x 0.5" backside and 2.5" x 0.2" sides of this unit can be branded with your company's logo or message.
Hand Sanitizer Silicone Bracelet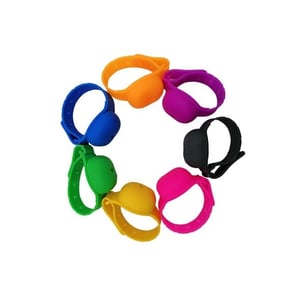 This gem is a unique silicone bracelet that doubles as a sanitizer holder. The bracelets are available in a variety of colors, and the sanitizer holder can be branded with a 0.4" x 0.4" design. This is a great mobile option as it doesn't require a bag or key ring to attach to while still allowing the wearer full access to both their hands. Given how seamlessly mobile the bracelet is, it's a great item for children, students, and workers who may be moving around on-site frequently.
Branding Options
Like most promotion items, many of these sanitizer products come with a customizable label that can carry your message or branding. Just as you would with other promotional items, you'll want to consider why you're giving these items away and what you're hoping to communicate. Is it your branding that you want to be seen to promote awareness? Do you want the recipient to receive a specific message for your campaign? Are you expressing gratitude or care for their health and safety? Once you've decided your message, your decorating options on the label are typically available as a 1-color decoration or a full-color print. The costs associated with this decoration can also vary, with 1-color imprinting typically being more affordable.
Fragrances
Both the spray and gel sanitizers are available both unscented and scented, with fragrances ranging from fresh pine to vanilla to citrus. You'll likely want to take this into consideration when purchasing as individuals using the sanitizers may be sensitive to particular scents. It's always a good idea to request a sample of the available scents to see which, if any, you may be interested in and how strong they are.

Availability
Understandably, in the fallout of the COVID-19 outbreak, sanitizer products are in high demand. Typical production time is 3-10 business days from proof approval, but due to the increased demand and limited stock, it is highly encouraged to order well in advance of your deadline. If you find yourself in a pinch and needing sanitizers on short notice, your options may be limited. Get in touch with us to discuss what's most important to you in terms of features, budget, and quantity. We recommend ordering more than you need as the demand for these products shows little sign of easing in the near future. Knowing these details can significantly speed up the selection process and help ensure your sanitizers arrive in your hands as soon as possible.

With parts of the country beginning to open back up, good hygiene habits are more important than ever. Hand sanitizers, in conjunction with both social distancing and face masks, can help us keep ourselves and others safe. The beauty of hand sanitizers is the flexibility they offer to suit your individual needs, so it's easier than ever to get the protection you need in the method you prefer. Here at Madison Avenue, our customer relations representatives can help you nail down exactly what's important to you in regards to functionality, price point, and deadlines. They will help you find the perfect hand sanitizer for your needs and budget.
Contact Us - We would love to help navigate the selection process with you!

Interested in shopping for face coverings but not sure where to start? Check out our What Mask Is Best For You? blog or our other COVID-19 resources here.