Did you know the average person touches over 140 unique objects every day? In fact, a recent study shows that we touch our phones alone about 100 times per hour. These numbers are significant when you consider that every time we touch something, especially communally handled objects like doorknobs and light switches, we're transferring microbes that may have been on that object onto our hands (and vice versa). The most common transfer of germs into the body is when they're transferred from our hands to our eyes, nose, and mouth when we touch our faces, so the more things we touch, the greater our risk to introduce ourselves to potentially dangerous germs. The easiest way to mitigate this risk is to disinfect surfaces before we come into contact with them. Spray style alcohol-based sanitizers or disinfectant wipes can get the job done, but this may not be the most cost-effective way to sanitize all the surfaces we come in contact with on a daily basis (not to mention the shortage of these products in the past few months). But what other option do we have?
Ultraviolet, or UV, sanitizers are a reusable and reliable way to clean any surface of germs that are spread by touching. Although the technology is not necessarily new (as its sanitizing applications have been used for more than 40 years), consumer UV sanitizing devices have seen a surge in popularity recently with the shortage of many alcohol-based sanitizer products in the fallout of COVID-19. Essentially the UV light comes out at such a concentrated wavelength that it breaks down the cell walls of bacteria, fungi, and viruses, ultimately sanitizing the surface of whatever it's reflected onto. The strength of this light, however, also means that it's not safe for use on human skin and can actually burn an individual if they use these types of sanitizers directly on their skin. So while it can't necessarily make your hands themselves cleaner, it can help mitigate some of the risks associated with touching objects that commonly transfer bacteria - keyboards, cell phones, doorknobs, toothpaste, etc. - which effectively keeps your hands cleaner from the get-go. What's great about UV sanitizers is how easy it is to add in bonus functionality to them, and you'll see many that serve as both a sanitizer and a charging station for your phone or electronic devices. The versatility provided by these products makes them a great gift while also keeping personal protection in mind.
Getting Started
For UV sanitizers, the hardware associated with the sanitation process means the end product is typically a little larger and does not usually facilitate attachment options like its gel and spray counterparts. This doesn't make them any less mobile as many of the products are no bigger than your cell phone and easily fit inside your pocket or bag without so much as a second thought. With all sanitizers essentially serving the same function in terms of use, considering how transportable you'd like yours to be can help narrow down the selection process to a size and design that suits your needs.
Portable USB UVC LED Germicidal Lamp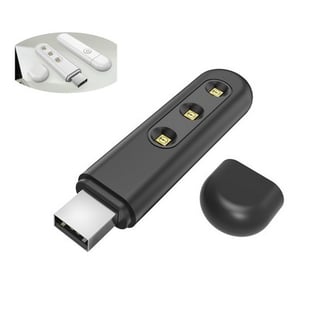 A UV strong sterilization LED disinfection lamp that plugs right into your USB. This unit is compact, and at just 3.5" long, it easily fits into your pocket or bag for seamless transport allowing you to sterilize personal daily necessity items while on the road. Finally, there is a 3" x 0.8" imprint area along the back for a company logo or message. This is a great pick for a techy and topical gift.
UV Phone Sterilizer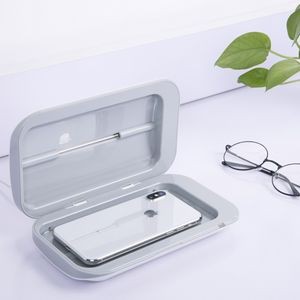 Although this item is touted as a phone sterilizer, it will ultimately disinfect any item that fits in its 8.5" x 5.1" x 2" box, so things like your keys, rings, and watches are all able to be sanitized. The fact that this particular phone sterilizer has a significant 5" x 3" imprint area for your logo, along with how practical its functionality is, makes it a great personal protection giveaway.
UV Steri-Wand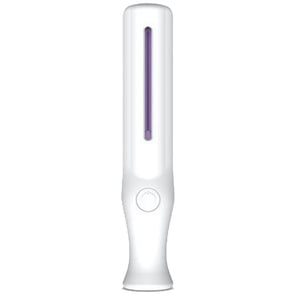 This handy pocket-sized wand destroys bacteria after just 20 seconds of use. This is great for on the go use to sterilize things like doorknobs, light switches, and other commonly touched objects. It is battery operated, so you can recharge it and use it anywhere, making it a popular item for event attendees or anyone on the go.
UV Phone Sanitizer with Wireless Charging Dock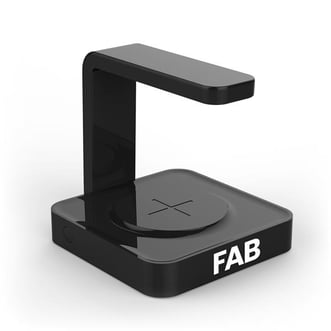 A compact UV sanitizer also doubles as a wireless charging dock for your phone. While not as compact as some of the other UV sanitizers we've highlighted, it can be branded along the front 0.5" x 1.2" area of the base, and it's added charging functionality makes this a smart addition to an office or home desktop.
Branding Options
Just like alcohol based sanitizers and other promotional or giveaway items, most UV Sanitizers are able to be branded with your company's logo or message. However, given that these items are typically larger or made of a more durable material than the alcohol-based sanitizers' containers, there are typically more location options and more than one way to imprint the items (with some methods being more expensive than others). Making the right decision on not only where, but how, you decorate or brand these items can help lower the price point to fit within your event's particular budget.
Availability
With the majority of the population, more health conscious in the wake of the COVID-19, the demand for all sanitation items has understandably increased. Production times on these types of UV sanitizers can range from 5-10 days all the way to 30 days. With longer lead times and high demand leading to potentially limited stock, it's best to get orders for these well in advance of when you need them. If you find yourself needing a sanitizer option in a hurry, alcohol-based sanitizers may be a better option as the typical lead time for these sanitizers is usually only about 3-10 business days. Get in touch with us to see what the expected turn around is and if there is a quicker alternative that still aligns with your priorities (quality, features, budget, and quantity). Keep in mind that because UV sanitizers are meant specifically to sanitize surfaces and not skin, depending on how you're planning to use these items, an alcohol-based sanitizer spray could also be an option. Like the alcohol-hand sanitizers, we recommend ordering more than you need as the demand for these products shows little sign of easing in the near future.
It is safe to say whether we're starting to head back to work or are just trying to be a little safer while working from home we all have an increased focus on good hygiene habits. Keeping surfaces sanitized means cleaner hands and clean hands in conjunction with both social distancing and face masks can help us keep ourselves and others safe. Here at Madison Avenue, our customer relations representatives can help you nail down exactly what's important to you in regards to functionality, pricepoint, and deadlines. They will help you find the perfect sanitizer or health and safety giveaway for your needs and budget.
Contact Us - We would love to help navigate the selection process with you!
Interested in shopping for alcohol-based sanitizer or face coverings but not sure where to start? Check out our other blogs - Difference in Hand Sanitizer Explained or What Mask Is Best For You?.