Meeting and event numbers climbed back to nearly 90% of pre-pandemic levels at the end of 2022, so it should come as little surprise that 2023 is expected to be a year of not only continued recovery but growth, surpassing 2019 meeting volume. In North America, 88% of 2023 meetings are expected to have an in-person component, and internal team or training meetings are expected to account for 47% of 2023 meetings. According to Knowland's Meeting Recovery Forecast, overall meeting volume will exceed 2019 levels by mid-2023, with a number of the top 25 markets completing a full recovery by May 2023.
While the return to in-person events and the continued industry recovery is great news, it comes with a new set of challenges. Increased costs, longer lead times, venue availability, attendee health and safety, and attracting attendees are all part of the "new normal" of meeting and event planning considerations. Below we'll take a deeper dive into the numbers from the American Express 2023 Global Meetings and Events Forecast, Northstar's latest Pulse Survey, and Convention Cities Index and each of the new challenges 2023 will bring for planners.


Increased costs
Rising costs for travel, venue space, and goods are the biggest challenges planners anticipate for 2023. Check out what might be in store for your budget with this handy infographic: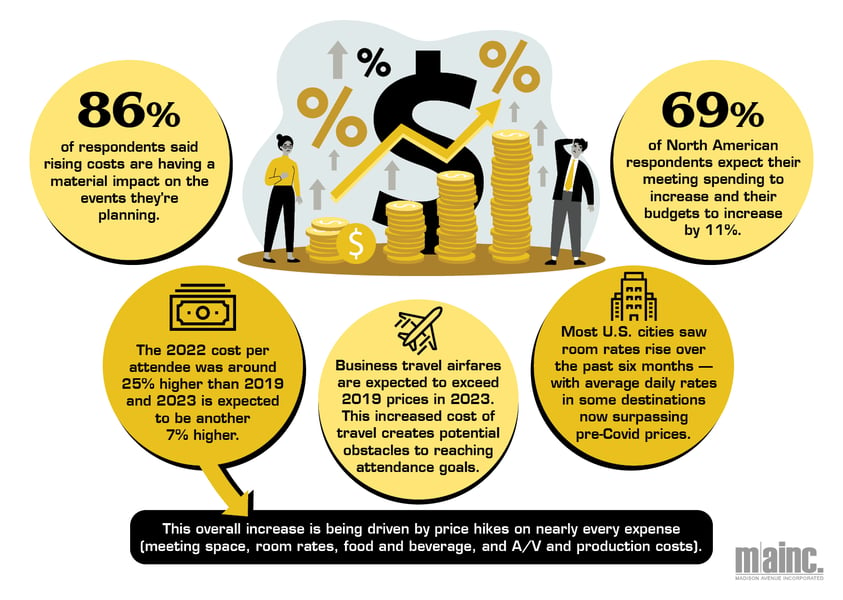 Attracting Attendees
Overall meeting volume is expected to increase in 2023, but attendance at the individual event level is expected to continue to struggle. 55% of respondents expect their overall attendance in 2023 to be 90% or less of pre-pandemic numbers, and 29% expect attendance to be 76-90% of 2019 levels. Differentiating Your Event will continue to be a focus of meeting and event professionals as they compete with other in-person opportunities for attendees. Check out our networking, graphics, and content blogs for a deeper dive into how to attract attendees and make your event stand out from the competition.
Attendee Journey Mapping
Attendee journey mapping has long been an integral part of a planner's arsenal leading up to executing their event and will continue to be in 2023 and beyond. The top factors to consider when mapping your attendees' journeys in 2023 have changed and evolved over the years. The top factors in the attendee experience are health and wellness, risk management, sustainability, diversity, supplier optimization, technology, and communication.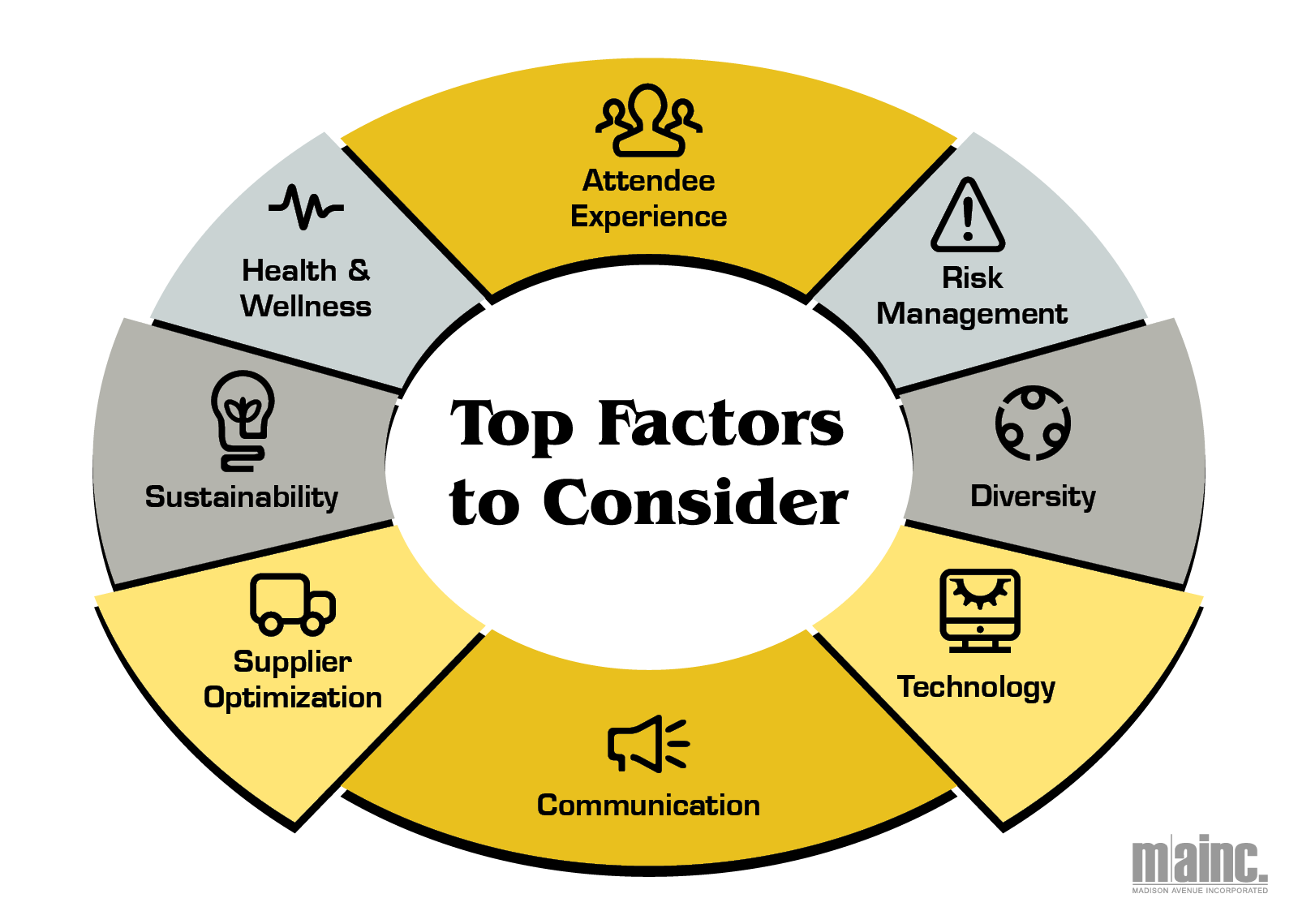 Bleisure Travel
With pent-up travel demand from the height of the pandemic, bleisure travel (a work trip with an extended vacation before or after) has emerged as a top industry trend. In 2023 this is a great way to differentiate your event by offering immersive experiences or opportunities to your attendees. Highlight the food and unique cultural experiences in your marketing materials and offer various dine-around and networking opportunities outside the convention center to offer additional experiences and value to your attendees.

Attendee Health and Safety
Health and safety and duty-of-care components have long been a focus of planning a meeting or event. With the US and parts of North America experiencing a COVID-19 resurgence, flu season, and the spread of RSV, attendees are focused on what is being done to mitigate risks and listing health and safety as a top concern.

Sustainability
83% of organizations take sustainability into account when planning meetings and events. This is expected to continue to be a major focus in 2023 and beyond. Check out The Meeting Planner's Ultimate Guide to Sustainable and Eco-Friendly Events for all things eco-friendly and sustainable (from signage, graphics, and promos to leveraging brands with initiatives to increase attendee experience and engagement).


Supplier Flexibility (or optimization)
Ongoing supply chain issues and longer lead times will make selecting vendors or partners who are not only reliable but flexible more important than ever. Optimizing your vendor networks and reaching out to your suppliers earlier than usual can limit supply chain issues and possibly expensive expedited shipping.


Venue Availability and Supplier Staffing
Limited venue availability and staffing shortages at available venues are expected to continue in 2023. Respondents indicated the top two factors in selecting a meeting space are the "size of meeting space to accommodate distancing" (35%) and the ability to host hybrid meetings (e.g., WiFi bandwidth, skilled A/V staff) (25%).


Proving or Providing ROI
We can all agree the pandemic made it very apparent the need for connection through in-person or live events is massive, but convincing your leadership of the value of your event or program is still proving challenging in 2023. With attendance numbers forecasted to be slightly lower than they were in 2019, using pre-pandemic benchmarks could leave your 2023 metrics with a less-than-accurate total. Instead, use the steps below to determine new event goals and prove continued value or ROI to your organization:
Determine what organizational values your meeting aligns with or can serve

Set goals for what's important for your meeting program

Include these goals and outcomes in your event mapping

Figure out what data you'll need to collect to measure these

Make sure you have the right tools

Start tracking
2023 and Beyond
There is little doubt that the meeting and events industry is on the road to recovery and, with continued innovation, will soon surpass pre-pandemic numbers. With this comes a new set of challenges, opportunities, and adjustments to planning and hosting events. We hope this industry forecast inspires and motivates you as we all work to continue to grow this ever-resilient industry. Our friendly staff is always here to brainstorm for your next event, answer any questions, and offer products that align with your meetings' goals and outcomes, so don't hesitate to reach out - we'd love to partner with you on your next event!