With information and news regarding the COVID-19 virus changing daily and states around the country opening back up at different paces, making a decision to hold an in-person meeting, conference, or event in the coming months is definitely a challenge. One thing that is certain in these trying times is that events will undergo changes in order to resume safely. Fortunately, preparing and planning are what the meetings and events industry does best. When the time comes to hold live events again, we know event planners will be ready. Here are precautionary measures you can take before and during your event to enhance the health and safety for all in attendance.
Education and Communication
First and foremost, it is imperative to educate yourself before you can make any decisions. By this, we mean through reliable and factual resources such as the Centers for Disease Control and Prevention (CDC), the World Health Organization (WHO), and Events Industry Council (EIC). Keeping up-to-date on on state and local ordinances fact-based information will allow you to make the appropriate decision for your event, event attendees, and to properly communicate with them, your sponsors, and other stakeholders about what safety measures are being taken during the event. Before your event, be as vocal as possible with your attendees about these measures by sharing updates, useful hygiene tips, and other information on the event website, through email, social channels, and other outlets you see fit.
Implement a No-Touch Policy
In an effort to prevent the coronavirus from spreading, experts are strongly advising everyone to practice social distancing and against handshakes. Although it's second nature for us to extend our arms to introduce ourselves when meeting someone new, there are alternative ways to greet people at events. Some of these no-touch greetings include a simple wave, peace sign, bow, and even a "footshake." Other meeting and event planners are implementing even more creative ways for attendees to network touch-free through "virtual handshake" button pins or nametags and color-coded wristbands that allow attendees to silently signal their preference for physical greetings at large gatherings (see below for a great example of pins from the American Association of Community Colleges). To prevent attendees from feeling awkward or rude for refusing to shake someone's hand, we recommend that you pre-communicate this information as an event policy or rule.



Provide Handwashing and Other Recommended Hygienic Instructions and Techniques Through Signage
Include instructions on proper handwashing and preventatives to spreading germs through coughing or sneezing on signs, banners, and wall decals throughout the venue, especially in restrooms. The CDC recommends washing hands for 20 seconds. Try humming the "Happy Birthday" song twice or sing the chorus of one of these songs - we've included one for each decade: 'Jailhouse Rock' by Elvis, 'My Girl" by Temptations, 'I Love Rock 'N' Roll' by Joan Jett & The Blackhearts, 'Say My Name' by Destiny's Child, 'Ms. Jackson' by Outkast, and 'Truth Hurts' by Lizzo (CNN, March 10, 2020).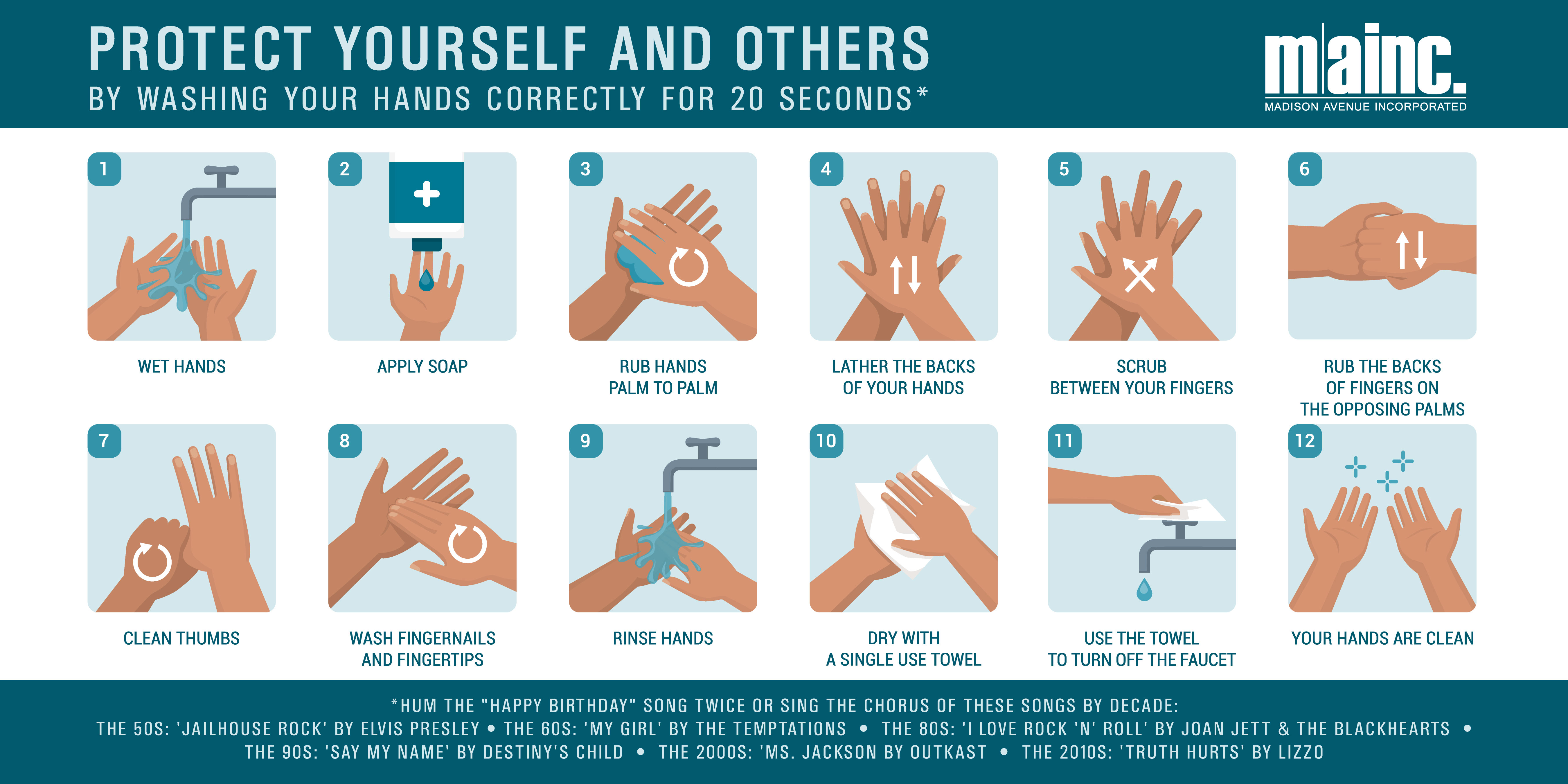 Download chart here.
Download chart here.
Invest in Hand Sanitizing Dispensers and Stations
Rent or buy handwashing or hand sanitizer dispensers or stations and place them throughout the event venue. Make sure that dispensers are filled with alcohol-based hand sanitizer containing at least 60% alcohol. Consider adding signage to educate attendees on CDC guidelines for using hand sanitizer. According to the CDC, when using hand sanitizer, use the same technique as handwashing, "rub hands together until hands feel dry… this should take around 20 seconds." If budget is a concern, ask sponsors to fund these sanitizer dispensers or handwashing stations in exchange to have the stations custom branded. This is great exposure for a sponsor to showcase their concern and importance of your attendees' health.

We've created a room by room guide and checklist based on the CDC guidelines and various local and state ordinances. This guide includes recommended interior and exterior Social Distancing, Health and Safety, Directional and Entrance signs, and products to make event venues as safe as possible.
Gift Attendees With Hygienic SWAG

Give out hand sanitizer and wipes, touchless tools, face coverings, employee protection / PPE, or other COVID related items as swag or giveaways. Like the handwashing dispensers and stations, these, too, are a great opportunity for potential sponsors or additional branding for your event.
With masks and face coverings, hand sanitizers, UV sterilizers, and other COVID related products in such high demand, you've likely noticed there are a variety of different types of these products to choose from which can present a challenge when it comes to making a purchase. To make your decision a bit easier, we've listed out the differences between the prevalent products you've seen floating around these past few months in our buying guides:
As a Last Resort: Offer a Hybrid Option
Instead of completely canceling or postponing your event, consider offering hesitant to travel attendees with the option of a hybrid event to ease fears. According to Socio, author Mike LaFollette, hybrid events "blend the live, in-person experience with a remote, virtual conference. Using technology, event organizers can reach attendees both onsite and in the office—via recordings of the on-site event or live-casting."
If you're one of the many opting for the fully digital route, you're probably in need of an online platform like yesterday. Not only do you need an online platform fast - you need one that is a good fit for your specific event. With an abundance of apps and platforms on the market, how do you choose which one is best for your event? In our 10 Best Apps for Virtual Events and Trade Shows blog, we've listed out the top expert recommended free and paid apps for hosting virtual events.
In Conclusion...
With travel restrictions beginning to ease and lift, many organizations are planning to hold future events, meetings, and conferences around the country in a safe manner. Before making a decision, do your homework, confirm with state and local municipalities guidelines for public gatherings, and communicate with all stakeholders involved to determine the best course of action for your specific event. If, after careful deliberation, you plan to carry on with your event, keep in mind the precautionary measures recommended above to ensure the safety and wellbeing of attendees, event personnel, and yourself.

For tips on how to promote healthy behaviors, and maintain a healthy environment, check out Event Strategies for Healthy and Safe Events and Meetings - CDC Guidelines for Events and Gatherings.
Updated on July 28th, 2020.
Additional Resources:
https://www.cdc.gov/
https://www.eventscouncil.org/
https://www.who.int/emergencies/diseases/novel-coronavirus-2019
https://www.meetingsnet.com/risk-management/cancel-or-proceed-here-s-some-help-making-call
https://blog.socio.events/how-a-hybrid-event-can-ease-coronavirus-fears/
https://blog.softwareinsider.org/2020/02/29/best-practices-hosting-events-in-the-age-of-coronavirus-covid-19/
https://www.linkedin.com/pulse/coronavirus-conferences-what-every-event-producer-must-isaac-watson/
https://destinationsinternational.org/message-leaders-meetings-and-events-industry
https://www.linkedin.com/pulse/coronavirus-chronicles-keeping-attendees-safe-your-upcoming-johnson/
https://www.eventmanagerblog.com/online-events
https://www.smartmeetings.com/news/124566/coronavirus-fears-force-no-go-decisions-meetings?utm_medium=social&utm_source=Facebook
https://www.cnn.com/2020/03/08/us/hand-washing-songs-decades-trnd/index.html
https://www.cnbc.com/2020/03/11/washington-state-bans-large-events-to-contain-the-coronavirus-outbreak.html